Neon Quartet
STAN SULZMANN saxophones
KIT DOWNES piano & organ
JIM HART vibes
TIM GILES drums
NEON QUARTET's new album SUBJEKT will be released in the UK on 5th November. (Please click here for worldwide release dates)
Edition Records are proud to announce that formidable jazz ensemble Neon Quartet will be releasing a second album with us later this year.
Neon Quartet comprises of musicians from four distinct trajectories within jazz: frontman saxophonist Stan Sulzmann's biography reads like a 'Who's Who?' of jazz – Kenny Wheeler, John Taylor, Gordon Beck and US pianist Marc Copeland have all been long-term associates. His forty years in the business have seen him work with Gil Evans, Mike Gibbs, the New York Composers' Orchestra, Michael Brecker and the NDR Big Band. As well as being a wonderfully lyrical saxophonist, Stan is a much-respected composer and he combines this experience to expertly lead Neon Quartet.
Pianist Kit Downes is already one of the most talked-about players of his generation. His work with the powerful, electronic three-piece Troyka has received acclaim way beyond the confines of British jazz. Drummer Tim Giles has been playing professionally since he was 11 years old backing giants of the music like Art Farmer, Charles McPherson and Peter King. One of the most musical drummers on the scene, Tim Giles truly sculptures sound. Vibist Jim Hart is a founder member of London's LOOP collective and one of the most in-demand musicians on the British scene, as a soloist and as a sideman on both drums and vibes. Together the four men bring their own experiences to the quartet to create a truly unique and engaging sound quite unlike any other.
The new album follows Catch Me, the quartet's 2010 album with Edition, which was released to wide critical acclaim.
"The Quartet's use of counterpoint, its rhythmic flexibility, imaginative interplay and lyrical and inventive soloing combine improvisation with a scrupulous attention to detail without compromising the organic development of each performance". IRISH TIMES *****
"Terrific" OBSERVER
The music on the highly anticipated follow up record has evolved and further develops the quartet's strong group identity. The album sees Kit Downes playing organ as well as piano- adding another layer of texture and colour to the mix. The compositions, from Stan Sulzmann, Kit Downes and Jim Hart, are rhythmically robust as well as melodically persuasive. With three composers on board, Neon's music is a rich pageant of sound and shifting rhythms that meld together perfectly.
Neon combine the values of experience with the freshness and vitality of youth and with Sulzmann's vast experience leading the quartet, this album is set to further establish the foursome as Brit-Jazz masters.
VIDEO INTERVIEWS
Listen to Stan Sulzmann talk about the new album Subjekt and how the band formed.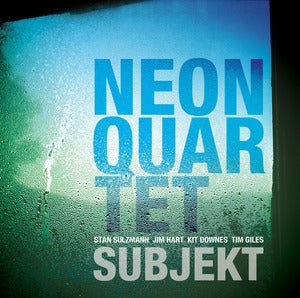 View our Flickr Gallery